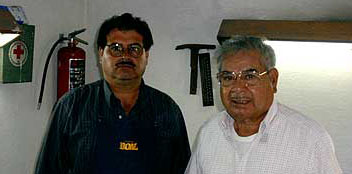 Why Study With Enrique Lopez Larrea?
During his 49 year tenure as the Instituto Allende's Professor of Silver Smithing, over 100,000 students were introduced to the world of silver by Maestro Enrique Lopez. Many continued in that field and established their own studios with international markets.
Over the years, the maestro has exhibited in many galleries and has received awards and accolades from both members of the art world as well as from notables of State and Local government.
Since his retirement from the Instituto Allende, Maestro Lopez continues teaching to this day, now assisted by his son Antonio, in his studio at calle San Pedro #27. By limiting the classes to 10 students, individual instruction is guaranteed. The workshop is outfitted with all necessary equipment.
The Lopez silver jewelry school's sessions are open, you may begin at any time. Our silver jewelry classes are open to all levels of student, we will supply all necessary equipment. For your convenience, we always have a large supply of silver and stones available for our silver jewelry workshops, but you may bring your own stones and silver, if desired..
The silver jewelry courses are arranged into 36 hour sessions over 4 weeks, 3 sessions of 3 hours, 3 days per week. (Shorter time periods may also be arranged).
You may choose to attend either the morning (9 AM to 12 PM) or afternoon (2 PM - 5 PM) sessions, Monday through Friday.
NOTE: Sessions in January, February and March always fill rapidly, if you plan on studying jewelry making during these months, we recommend that you reserve your spot early.