Reyna Polanco

invites you to her home in San Miguel de Allende to learn the secrets of Mexican cooking.

"For anyone interested in learning more about Mexican food and culture, Reyna Polanco Abraham's San Miguel de Allende kitchen is the place to be on Friday afternoon. Reyna was brought up in Coatepec, Veracruz and delights in sharing family recipes from her Mexican gulf coast state. She also enjoys cooking traditional dishes from Guanajuato, Michoacán, Jalisco, Puebla, Oaxaca, and as far as Yucatán.

Reyna's classes are in English, with printed recipes for everyone. Her fun-filled classes are enjoyed by locals and travelers. After each session Reyna prepares a comida (full afternoon meal) of the dishes she teaches that day, including drinks, dessert and coffee. Everyone looks forward to the sumptuous food - and having a good time."

Nancy Zaslavsky, Author of
A Cook's Tour of Mexico, and
Meatless Mexican Home Cooking

(Reyna is featured in the above cookbooks)


pricing as follows:

US $200
for up to 6 persons

US $35
each additional person


for more information visit their site:

www.internetsanmiguel.com/polanco/

Email: sydyreyna@yahoo.com

Contact:
Telephone:+ 52 (415) 152-41-93



Tradicional Mexican Cooking School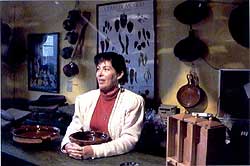 Experience cooking with María, a Mexican woman who inherited over 200 years of family recipes and techniques. (Featured in Texas Monthly November 2001)

Learn authentic Mexican recipes, observe or participate in the food preparation and enjoy eating too! Classes daily in a bright Mexican Kitchen (1-6 Students)

Special Classes: salsas, adobos, pipianes, moles, tamales, pozole, chiles rellenos, soups, rices, and main dishes.

Each class costs $400 pesos per person, per class.

Farmers Market Tours $180 pesos per person.
to make your class reservations:

María Ricaud Solórzano
www.traditionalmexicancooking.com.mx
email: cocimari@hotmail.com
tel: + 52 415 152-43-76
Calle de la Luz #12 in San Antonio
San Miguel de Allende, Gto., Mexico