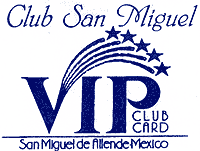 eat & drink at participating restaurants and get a 20% discount off your bill

The San Miguel Restaurant Club card allows diners to receive ap to 20% discount off their total bill when paying cash, or 15% when paying via credit card. The card discount can be applied for the food and drinks of up to 4 diners.
The card costs $400 pesos annually (about US $40), but web visitors can print out the online coupon for a $50 peso discount that can be used exclusively at Internet San Miguel Cyber Café.
The VIP card is on sale at the following locations:
Border Crossings: Correo #19


La Conexion: Aldama #1

RE/Max Colonial: Recreo #14

Internet San Miguel Cyber Café: Mesones #57, Local 'C'.
See the café's website for a map.
When you purchase the card from the Internet San Miguel Cyber Café, take advantage of the web coupon discount. Be sure to present your coupon at time of purchase!


For more information:
please email: vipsma@cybermatsa.com.mx
or telephone: 152-7363
Notice: Certain Restaurants and Businesses may have restrictions that do not appear on this website. Please contact The Restaurant Club directly for a complete list of participating businesses and restrictions.

If you plan on spending more than US $170 on food and drinks during your stay in San Miguel, the VIP club card will save you money.

Participating San Miguel Restaurants:
Antigua Trattoria - (Flat Iron Building), Zacateros and Codo, 152-3790.
Fine Italian Food. Closed Wednesdays. (20%).

BBQ Bob's - Pila Seca #55, 152-0807.
(10%) ($100 pesos minimum).

Berlin - (10%) ($100 pesos minimum, cash)

Buen Café - Jesus & Cuadrante, 152-5807.
Breakfast, lunch and dinner. Closed Sundays. (20%) ($100 peso minimum)




Bugambilia - Hidalgo #42, 152-0127.
Lunch and dinner. Traditional Mexican dishes. (20%) (no credit cards for discount).

Café San Francisco, Posada San Francisco - Plaza Principal 2, 152-0072.
Courtyard and street side dining, full menu, Mexican cuisine including seafood and full bar. (20%.)

Casa Blanca - Hidalgo #34, 154-6070. Famous for crepes, pizza and international cuisine. (15%) ($100 pesos minimum)

Casa de Relox - Relox #17, 152-0097.
Breakfast, Lunch and dinner, Mexican buffet. Closed Tuesdays. (20%)


Casa Montana Hotel Restaurant, Pozos - Jard�n Principal, 01 (442) 293-0032
International and national dishes in the midst of a one-time old ghost town in small luxury hotel. (20%)


Casa Payo - Zacateros #26. 152-7277.
Landmark San Miguel Argentinean steak house. (15%)


Chamonix Restaurant - Sollano 17A, 154-8363. Ethnic haute cuisine. Closed Sundays and Mondays. (10%)


Don Quijote - Prolongación de Pila Seca #55, 152-0807. Bar and Grill, famous ribs and burgers, lunch and dinner. Closed Mondays. (20% cash, 10% credit cards)


El Asador Catlán - Km. 9 Salida a Querétaro, 152-7900 Open 1 until 7pm. Closed Mondays. Renowned traditional Spanish faire. (20%)


El Bacha - Piedras Chinas #21, 152-8110, (up off Salida de Queretaro, on the Queretaro side of the mirador.) Greek and Lebanese Food. VIP Club members can take off 15% for food and drink ordered off the menu when paying cash.
Note: El Bacha's DAILY BUFFET IS NOT INCLUDED in the VIP Club promotion.


El Correo Restaurant - Correo #23, 152-4951 Good traditional Mexican food, full bar, closed Tuesdays. (15% cash, 10% credit card)


El Pullman - (20%)


En Agua Bar And Pulquería - Jesus #19 Night Time hip and intimate bar, live DJ, Tuesday - Sundays. (15%)


Harry's New Orleans Cafe and Oyster Bar - Hidalgo #12, 152-2645
New Orleans Cafe, Fresh sea food, cajun and creole dishes, extensive wine list, open 7 days a week. (10%, Cash only)


Holly's - (20%) (take out)


Hotel Aristos Restaurant - Calzada del Cardo #2, 152-0149.
Breakfast, lunch and dinner. Sunday buffet. (20%)

La Fragua - Cuna de Allende #3, 152-1144
One of the most traditional restaurants in San Miguel, chef Fernando is your host with special recipes, full bar. Closed Mondays. (10%)


La Milpa, (formerly called El Habanero) - Ancha de San Antonio #22, 152-8853.
Quality seafood restaurant presently closed for redecoration. (10%)


La Puertecita - Santa Domingo #75 , 152-5011.
Rated internationally, as one of the top 100 small luxury hotels in the entire world. (20%) (no discount on buffets)


La Princesa - Recreo (20%)


La Vida - Ancha San Antonio #31, 152-4050.
Casual dining. Sports center with direct TV, pool tables, local favorite. Suishi on Tuesdays. (20%)


Limmerick Irish Pub - Umar�n #24, 154-8642
Lively youthful atmosphere, Guinness beer, pool, good music, sports TV (15%, 100 peso minimum)


L'Invito (Instituto Allende) - Ancha de San Antonio #20, 152-7333.
Serving authentic recipes from the north of Italy great ambience. (20%) (Instituto Allende)


Manolo's - Corner of Pila Seca and Zacateros 152-7277
Intimate sports bar, appetizers, full meals, draft beer, Sporting events, satellite direct TV. (15%)


Market Bistro & Petit Bar - Hernandez Macias #95, 152-3229. Country French cooking. Imported wines. Daily until 11pm, midnight on weekends. (15%, $100 peso minimum at bar)


Mesón Castellano - Salida a Celaya #57.
Spanish restaurant featuring paella. (15%)


Mesón de San José - Mesones #38, 152-3848.
Located back in a courtyard off Calle Mesones, Homemade soups and fresh salads. (20%) ($100 peso minimum)


Number 19 Restaurant - Jesus 19, Home made Mexican dishes and full bar. Closed Wednesdays. (10%)


Olé Olé - Loreto #66, 152-0896. The best fajitas en the region, (10%)


Olivos - Restaurant and Gallery, Codo #32, 152-7486 International cuisine, Lunch and dinner, full bar. (20%)


Pueblo Viejo - Umarín #6, 152-4977. Breakfast, lunch and dinner, Traditional Mexican and international dishes. (20%)


Restaurante del Jardín Plaza Principal Across from main plaza and Allende Museum. Breakfast lunch and dinner, open late.


Santuario Hotel Restaurant - Terrapl�n #32, 152-0335. Intimate hideaway. House chef prepares daily specials. (20%)


Sierra Nevada - Hospicio #35, 152-0415. San Miguel's prestigious hotel, all three of its charming restaurants are available.
Also try Sierra Nevada on the park, just below the Chorro, one of San Miguel's most beautiful settings. (20%) (all three locations)


Ten Ten Pie Restaurant Cuadrante & Cuna Allende. Small, clean and reasonable prices, local restaurant serving Mexican dishes, breakfast, lunch and dinner. (10% food, 20%, beverages except beer)


Villa Rivera Hotel Restaurant, Cuadrante #1, 152-2289. Behind the Parroquia. Inside and outside dining. International menu, wonderful ambience, Breakfast, lunch and dinner. (20%)


Vista Real Hotel Restaurant - Callejón de Arias #4, 152-3984. Hotel restaurant, International dining room and exquisite view of San Miguel. (20%)


New restaurants are added frequently, and occasionally restaurants drop out of the program with 60 days notice. Ask for the bi-monthly restaurant club newsletter at authorized outlets for detailed information on restaurants and the current list of participants. All participating restaurants are under contract with the San Miguel Restaurant Club to provide the same fine service as they would to patrons who walk in off the street. Discounts are waived during happy hours, 2X1 specials or other special events in which the restaurant is offering discounts to the public at large.
Other businesses offering VIP member discounts
Beatriz's Vacation Rental Apartments - 10% discount off rentals apartments.

Black & White Shop - In the courtyard at Mesones #38, where Meson de San Jose Restaurant is located.

Boutique Tonina

Camar Printing - 10% off all printing services, minimum $400 pesos.

Casa Linda, Luxury Hotel - 15% off for cash, 5% when using credit card.

Casa Montana Hotel in Pozos - 20%.

Chelo's Farmacia - 20% drugs, 15% off retail products except those already marked down, $50 pesos minimum.

Classes un LTD - VIP Club members may take 10% off continuous education classes. For additional info visit their website, www.classesunlimited.com, or call: 152-2483.

Intercam Casa de Cambio - .02 - .07% higher than the posted rate when converting dollars to pesos.

Jasmine Spa - Jesus #25A.

La Morada Hotel - 20% off rooms and suites (some black out dates apply).

Masa - Insurance to fly back to the US, any city, if fallen ill or have accident from anywhere in Mexico (10%) off premium.

Monex - Financial Services Mesones #80.

Multicom - Formally, IUSACELL, discount long-distance telephone cards additional 10% discount, Correo #3.




The Leather Shop - Umar�n #1.

San Miguel Health and Fitness Center - 20% off first month's membership.

Satellite Mexico TV - Welcome, SATELLITE MEXICO, VIP Club members can take 10% off services, including installation. Contact Chuck for info: satellitemexico@yahoo.com




3 Señores - Camping and horseback riding. For reservations call: 044-415-151-4252. 25% discount of regular rates.

Seventh Heaven Boutique - Cuadrante #2.

Valerie Computers 101 - VIP Club member, 20% off services, has the following to offer members: Computers for Sale: special order; 1.8ghz, p4 amo system, 40.0 gig hard drive, 256 memory, CD ROM, windows XP, CD Burner, Sound-lan, Modem 56k, free delivery and set up. Reg $850US, VIP $800US . . . needs half down with order . . . also 17" monitors, refurbish, VIP $125US.




Vista Real Hotel and Vista Real Hotel's Restaurant - Formally, Portal del Parador. VIP Club members, take 20% off hotel rates, other than for obvious black-out periods. Take 20% off Vista Real's Hotel Restaurant, now renamed, LA VISTA, (Best above view of San Miguel). During the month of November, all VIP Club members who dine at LA VISTA restaurant will be treated to a half-bottle of red or white wine and VIP discount will still be in effect.